Stephen and Stephanie L. - Home Sellers
"Absolutely professional. Above and Beyond the expected level of service. Rob kept our stress levels low during a struggling sales market which in turn, I believe, led to us getting a very fair sales price in the end. Rob also did several favors for us that I consider well above and beyond his responsibilities since we were out of town at the time of the sale. I could not have expected better service."
Randy P. - Home Buyer
"Excellent. Rob was knowledgeable and well prepared. His easy going style was great to work with but I always felt like he was looking out for me. He was able to make a stressful situation a very positive experience! He also found me the perfect house! I will make every effort to refer friends and family to Rob and Windermere."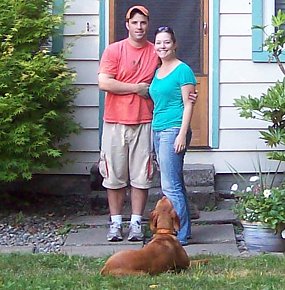 Michelle and Ian C. - First Time Home Buyers
"Rob was absolutely amazing! He was referred to us by close friends, who he helped find their first home a couple of years ago. They only had good things to say when they recommended him.
We originally reached out to Rob over a year before our purchase. Since it was our first home, we wanted to have a good idea of the market before we dove in. Rob was wonderful and happy to send us updates and housing listings to keep us up to date long before we were formally "on the market."
While we are forever grateful that he would provide such great service for "off the market" clients, it was when we were seriously ready to buy that the magic happened.
Rob showed us a large range of homes, taking care to ensure they had the characteristics we had outlined in our conversations. He was also more than willing to show us homes we had found in our own research online.
Ultimately, the home we purchased was one we thought we didn't like after viewing online photos, but Rob showed us the home and we fell in love.
The economy (Summer '10) is not exactly friendly to first-time buyers. The process was tiresome and frustrating, but Rob was there every step of the way. He kept up with the required updates to our purchase, stayed in touch with our broker, and most importantly: informed us of all the details in a manner that was understandable to us.
We would recommend Rob in a heartbeat, and he has been an asset in the process of purchasing our first home.
Thanks, Rob!


Orley S. - Attorney overseeing estate sale
"I've been an active member of the local bar since 1952 and have had countless occasions to avail myself and clients of real estate brokerage services. I cannot recall any real estate salesman more industrious and conscientious than Rob. He looked after everything and with remarkable efficiency and promptness. To say he promptly and efficiently addressed every problem which arose (and there were plenty of them) grossly underestimates matters."


Suzy O, - Relocation Home Buyer
"I just had to tell you, that you were awesome. You did all the stuff realtors are suppose to do ,but then you did the extras. We were 3000 miles away during most of the time and because of you I felt like I was here in Seattle. I would mention something and it would be done a few hours later. The floor plan you drew for me enabled us to move all that distance with only 1 piece of furniture that did not fit. You were always at the house to meet the various workers and inspectors and to meet my son around his crazy schedule. You actually did this move on this end and I will always be extremely grateful. I was a little scared about moving from 1 coast to the other at our age, but I have never been happier anywhere and you were one of the ones that made that possible."




Amber and Nate M - Home Buyers
"Rob helped my husband and I buy our first home two years ago. He is incredibly friendly, has great attention to detail and is very dedicated to his job. We bought our house over the winter holidays and though our broker was in Hawaii, my husband and I were in Maine and Rob was on the East Coast, he was able to make the deal happen. He made buying a home fun by reducing our stress and making everything seem manageable.
I would (and have) recommended Rob to all of my friends. He was fantastic to work with!"

Chad and Melissa P. - Home Sellers and Buyers
"Rob helped us sell our first home and find our new home during the same crazy month. We were both selling and buying at the peak of the recent real estate boom. Thankfully, Rob was available at a moment's notice whenever a potential buyer wanted to view our house or we wanted to see the most recent 'hot' listing. Rob kept us in check every step of the way."